Researcher of the Year Award
Award for Excellence in Research and/or Creative Scholarly Activity
The awards recognize faculty members of UBC's Okanagan campus who have made a significant contribution to research in these during the time of their appointment at the University. 
The purpose of the award is to honour excellence in research and/or creative scholarly activity at UBC's Okanagan campus in each of the three tri-council research areas: Natural Sciences and Engineering, Social Sciences and Humanities, and Health Research.
Past Award Recipients

---
2019 Researchers of the Year
2018 Researchers of the Year
2017 Researchers of the Year
Engineering professor Mina Hoorfar named 2016 Researcher of the Year
Each year, UBC Okanagan recognizes the top researchers on campus. Hoorfar joins the elite rankings of the top scientists in the Okanagan. She was presented with her award at a special ceremony March 11 at the campus.
The mark of a good professor is one who is up to their elbows in research projects, has a strong group of post-grad students working with them, resonates with students, and is popular with their peers.
Professor Mina Hoorfar – UBC Okanagan's Researcher of the Year – fits this bill exactly. Read more…
Engineering professor Abbas Milani named 2015 Researcher of the Year
An engineering professor with a penchant for designing lighter and stronger aerospace materials has been named UBC Okanagan's Researcher of the Year. Associate Professor Abbas Milani of the School of Engineering was recognized at a gala event wrapping up UBC's Celebrate Research Week on Friday, March 6.
Milani, who joined UBC in 2007, has designed cutting-edge composite materials for Boeing and Bombardier. His current research for non-conventional manufacturing simulation methods based on composite material models includes partners NASA, Boeing and the US Naval Undersea Warfare Center.
Engineering professor Rehan Sadiq named 2014 Researcher of the Year
Civil and environmental engineer Rehan Sadiq was named Researcher of the Year at UBC's Celebrate Research awards ceremony on Friday, March 7.
Sadiq's study is in the area of drinking water quality modelling, environmental risk assessment and decision-making, and asset management of civil infrastructure systems.
"I have always been very passionate about my research and I really enjoy the process," says Sadiq, acting Director of the School of Engineering. "It is my dream that UBCO emerges as a leader in research related to drinking water infrastructure management and environmental risk analysis. This award and recognition is a 'feel good' experience, but also humbling for me."
Nurse Joan Bottorff named 2013 Researcher of Year
Since UBC's Okanagan campus has grown faculty expertise in so many areas, there was no easy winner this year for the annual Award for Excellence in Research.
Philip Ainslie named 2012 Researcher of the Year
Philip Ainslie, Canada Research Chair in Cerebrovascular Fuction in Health and Disease and associate professor in the School of Health and Exercise Sciences, has been named Researcher of the Year at UBC's Okanagan Campus.
Since completing his PhD in 2002, Ainslie has authored a book, published more than 100 peer-reviewed publications, 10 major book chapters and has successfully supervised 27 post-graduate students. Ainslie has attracted more than $3 million in research grants, $1.6 million of that since joining UBC in 2009.
Melanie Jones named 2011 Researcher of the Year
UBC microbiologist Melanie Jones has been named Researcher of the Year at UBC's Okanagan campus.
Jones has been a professor in biology since 1990, first at Okanagan University College and more recently with UBC. Her research focuses on the effect of various forestry practices on the diversity of ectomycorrhizal fungi in BC forests. These fungi live among the roots of woody plants and play a vital role in nutrient and carbon cycling in forest ecosystems. Jones' most recent interest is in the physiological diversity of ectomycorrhizal fungi found in clearcuts and older forests.
Jones served on UBC's Okanagan campus Research Task Force in 2004, and was Associate Dean of Research and Planning for the Irving K. Barber School of Arts and Sciences during the first three years after UBC opened its campus in Kelowna.
"From the beginning, she has played a central role in helping the Okanagan campus develop into a comprehensive research institution," noted Doug Owram, Deputy Vice Chancellor and Principal, in announcing the award Thursday night at the university's Celebrate Research Week awards gala.
Murch and Evans share 2010 Research Award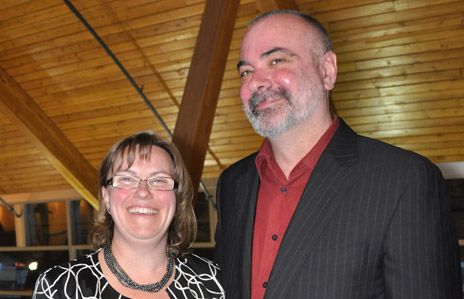 Two prominent researchers took home the title of "Researcher of the Year" following the Celebrate Research Week Gala held on March 15, 2010 at the Rotary Centre for the Arts.
Provost and Vice Principal Academic and Research Dr. Alaa Abd-El-Aziz announced the award, noting that the committee was faced with a very difficult choice this year-particularly due to the number of outstanding nominations that were received. "Each recipient has demonstrated excellence in a very unique way, making a choice between the two nominees simply impossible" said Abd-El-Aziz.
The first co-recipient announced was Dr. Mike Evans. "He strives to take creative and innovative approaches to research, and the outputs of his research have been incredibly meaningful and useful to the community". He added, "our second researcher receiving this award tonight is noted as being an exemplary researcher, both nationally and internationally. In addition, she is committed to conducting research that addresses issues of global concern. I am pleased to call forward Dr. Susan Murch."
Mathematician Heinz Bauschke named 2009 Researcher of the Year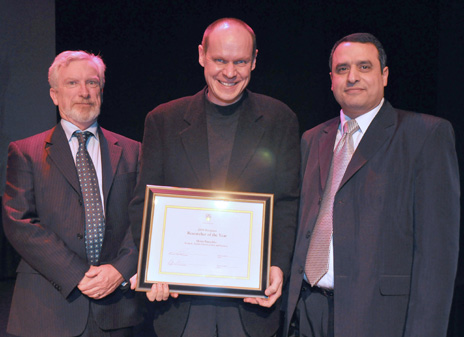 Left to Right: Doug Owram, Heinz Bauschke, Alaa Abd-El-Aziz
Dr. Heinz Bauschke,  Associate Professor, Mathematics and Canada Research Chair in Convex Analysis and Optimization, is the 2008/2009 recipient of the Award for Research Excellence and/or Creative Scholarly Activity. Dr. Bauschke is the first award recipient.
"This year's recipient goes far beyond the criteria we have outlined for the award" said Dr. Abd-El-Aziz, Provost. "Dr. Bauschke is among the top researchers in the optimization field, and he is bringing international recognition to his research team here at UBC's Okanagan campus." Not only is Dr. Bauschke known for being an outstanding researcher, he is also an exceptional teacher and mentor.